Before you start a construction project on your property, you will first need to determine what plans and permits are required so that your project will be in compliance with state and local laws. Knowing what you want to build on your property will help us determine the types of plans and permits that will be required. Below are 4 important questions that need to be answered for every new construction project in Northern Virginia and Washington, DC.
1. Is this project going to disturb more than 2,500 Square Feet of land in Northern Virginia (Arlington County & Fairfax County) or more than 50 Square Feet in Washington DC?
If the answer to this question is yes, you will need our Civil Engineering services to prepare a Site Plan to obtain a County Land Disturbance & Stormwater Permit. This is the first question to ask, since it will determine if you need our Civil Engineering Services or not. Complete land development projects covering the entire property will of course require our services, but small projects may or may not require us to help with the plans and permitting.
Land Disturbance in Arlington County and Fairfax County includes all ground that is disturbed to bare earth (dirt), but also includes material storage areas, construction access paths and dumpster areas, even if these areas are paved with asphalt or concrete and not removed. See example illustration below. This is the part where property owners can find themselves in trouble, unknowingly exceeding the 2,500 SF land disturbance threshold, resulting in a county violation and/or stop work order. For example, a homeowner will be able to obtain a building permit for a small addition without a land disturbance permit if the addition and disturbance area is under 2,500 Square Feet. The ambitious homeowner then decides to expand their project and contract with their landscaper to build a patio or re-grade their yard pushing a project that was previously under 2,500 SF to exceed the 2,500 SF limit. If a county site inspector visits the job site, they will see land disturbance over 2,500 SF without a county Land Disturbance permit and have no choice but to order all work to be stopped until a Land Disturbance Permit is obtained.
In Washington, DC, the land disturbance limit is not as lenient as Fairfax County or Arlington County. This is because the lots in Washington, DC are much smaller than Northern Virginia. Therefore, the land disturbance limit that triggers a Land Disturbance Permit requirement is only 50 Square Feet. That's not a typo, the limit is only 5-0 Square feet (a 10ft by 5ft area). Once your project, such as new areaway steps, exceeds 50 SF in land disturbance you will need our Civil Engineering Services to prepare an Erosion & Sediment Control Plan for DOEE approval and Permit. Additional plans may be required, such as a Public Space Plan and/or a Traffic Control Plan to submit to DDOT, if these steps encroach into public space. Either way, we will help you with all of these required plans and permits in Washington, DC for your construction project.
2. What do you want to build on your property?
Do you plan to build a small pool, patio and gazebo?
Do you want to renovate your existing house and build a small addition?
Do you want to completely tear down your existing house and build a new home from the ground up?
If this is not a residential property, do you plan to build a commercial building for your business or as an investment to lease the building out?
Each one of these answers will have a slightly different plan requirement. We will help you determine these requirements once we have a good idea of your goal for the property. If you have a concept footprint sketch from your architect or pool builder, that will be helpful for us while we are preparing a proposal for our civil engineering services. If you don't have a concept plan, a simple pencil or pen markup with notes will suffice or we can meet to discuss your general ideas. Either way, we can meet with you virtually over a video call or schedule an in-person meeting at our Arlington Office to discuss your real estate goals.
3. Do you need a Feasibility Study?
If it isn't clear whether or not you can build on your lot by-right, then you will need us to perform a feasibility study before we can give you a quote for our design services. With our Feasibility Study service, our civil engineers will search for zoning and environmental constraints on your property based on available maps and information. This research will be compiled into a single PDF report with a 1-2 page written summary by a professional civil engineer, a zoning setback/buildable area sketch, and a copy of all research documents. When complete, these feasibility reports are typically 30 plus pages of documents that point to and support our findings. These findings with our professional opinion will help answer your question of whether your real estate project is possible or not. For more information on our Feasibility Studies, read our blog post here; Is Your Lot Buildable? – The Importance of Feasibility Studies.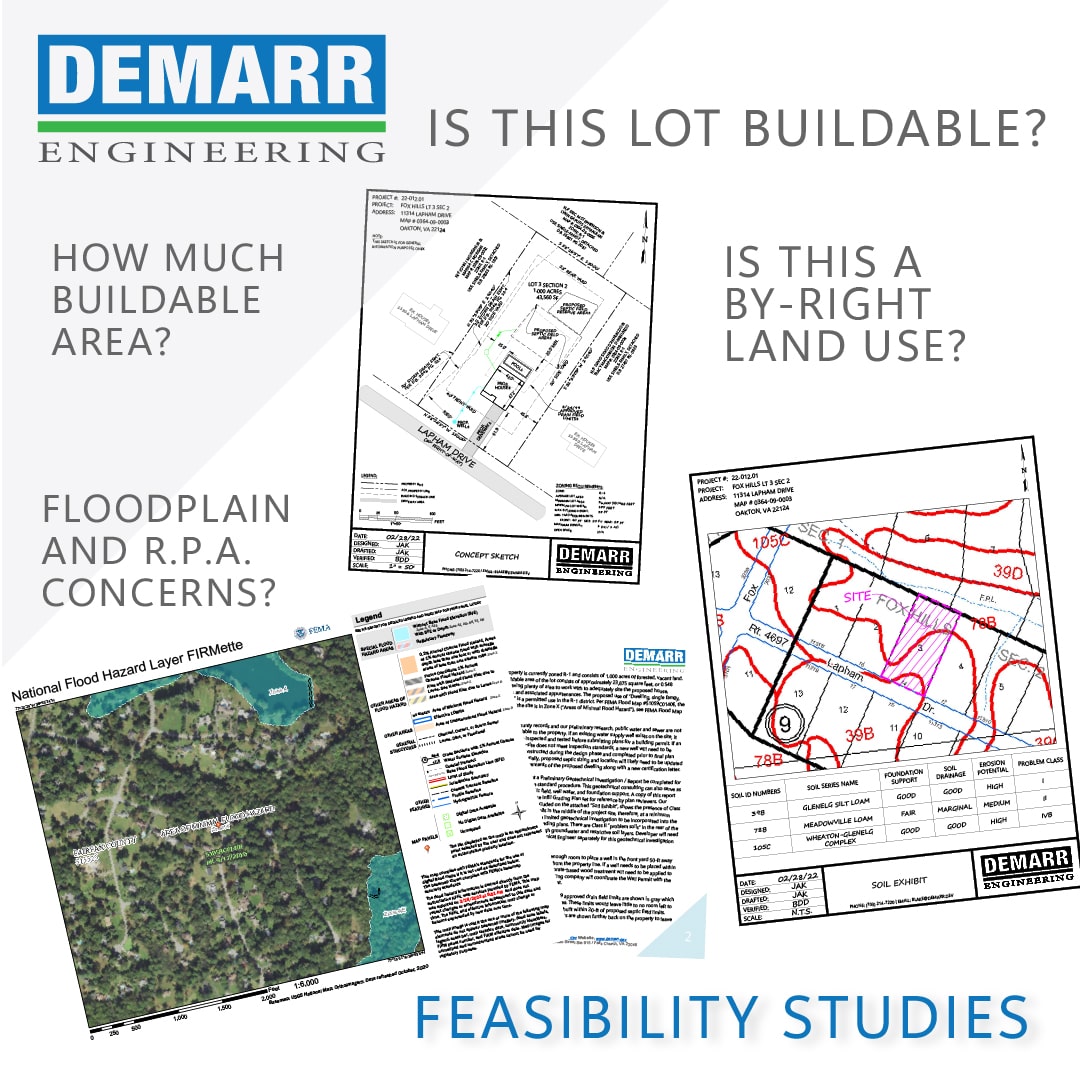 4. Do you have a Survey Plat of your property?
This isn't required, but it is helpful when we are preparing a quote or feasibility study for your land development project. Our typical civil engineering proposal will include a topographic survey to capture all the existing features on your property so we can design the proposed improvements to blend in with the existing conditions. What our proposal doesn't include is a formal boundary survey, which is why we like to see a Survey Plat showing your property lines. If you don't have a Survey Plat and if we can't find enough property corners during the topographic survey, there may be a change order for a boundary survey to replace any missing property corners.
Summary
Any information you can share with our professional engineers that may be relevant to your property will be helpful for us to look at and will help determine our scope of work for your construction project. The first step will be to give us a call and/or fill out our contact form and we will consult you on the next steps.